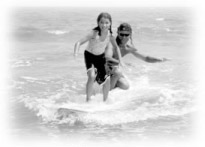 Kai and Izzy tandum surfing in 2001.
Surfing is awesome! - Isabelle Scrantom
(then age 9), Sullivan's Island

The longer days and warm Charleston water temperatures are ideal for making this the summer you and your kids learn to surf. Please let us know if you'd like to discuss arrangements that can help meet your schedule. We look forward to seeing you at the beach!


All sessions are 5-day, Monday thru Friday, beginning at 9:00 a.m. and completing at 12:30 p.m. each day. Lessons will be held at Folly Beach, to which a shuttle will be provided (see fees right) each day. Shuttle service will leave from Mt. Pleasant (Parrot Surf Shop) each day at 8:00 a.m. and will return at 1:30 p.m. For location and directions to catch the shuttle, visit the Contact Us page.
All sessions will be co-ed for 2023.
Registration is live for 2023!
Below is the 2023 Season Schedule. Please click a session to register.

Fees listed below include all taxes. A printable paper Registration Form is available here or you may register online via the Register link above.
For questions or concerns, please email Kai at kai@solsurfers.net.
| Item | Cost |
| --- | --- |
| Summer Surf Camp Deposit | $400.00 |
| Shuttle Fee (camp only) | $50.00 per Week |

Sol Surfers will be holding it's 5-day camp at Folly Beach. We will provide a shuttle to and from Folly Beach each day. Each session includes all gear, a Sol Surfers T-Shirt, snack, certificate of achievement, 5-to-1 student/instructor ratio to best meet each child's abilities and comfort level. This package is most recommended for the young beginner ages 6-17. New concepts are introduced each day. Instruction takes place on the beach and in the water. Technical skills are covered as well as safety and etiquette, wind, weather and water conditions.
Camp takes place on the beach at East 8th Street on Folly Beach, SC.
Hours 9AM - 12:30PM
Shuttle departs Parrot Surf & Skate at 8AM and returns at 1:30PM.
Surfers will need a bag with Sunscreen, Towel, Lunch, Reusable Water Bottle.
We are dedicated to introducing kids to surfing and helping them develop life skills, confidence, and humility. Caring for ourselves and each other, including Mother Nature, is a top priority; but, we especially provide a SAFE environment for learning surfing, we TEACH surfing at a high level, and our surfers always have FUN!!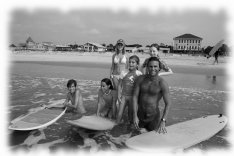 Children should be at least 6 years old to participate.
All participants must be able to swim and be comfortable in the water.
All instructors are certified lifeguards with CPR and first aid training.
Camp is licensed and insured.


We are pleased to have partnered with Billabong for over 10 years! We could not be more pleased to be working with such a great, core Surfing company!
Block the Blaze is excited to partner with Sol Surfers Surf Camp to educate surfers on sun safety and skin cancer prevention! Block the Blaze started in CA, and has expanded into 12 additional states! Surfers and water sport athletes are especially susceptible to skin cancer due to their extended exposure to harmful UV rays. To learn more, please visit johnwayne.org
Frequently Asked Questions
What if my child is younger than 6?

Is it possible to learn to surf after one week of Surf Camp?

What if it rains?